Suzue 15mm to 12mm Thru-Axle Converter, Length 130mm, Niner, Kona, Whisky #9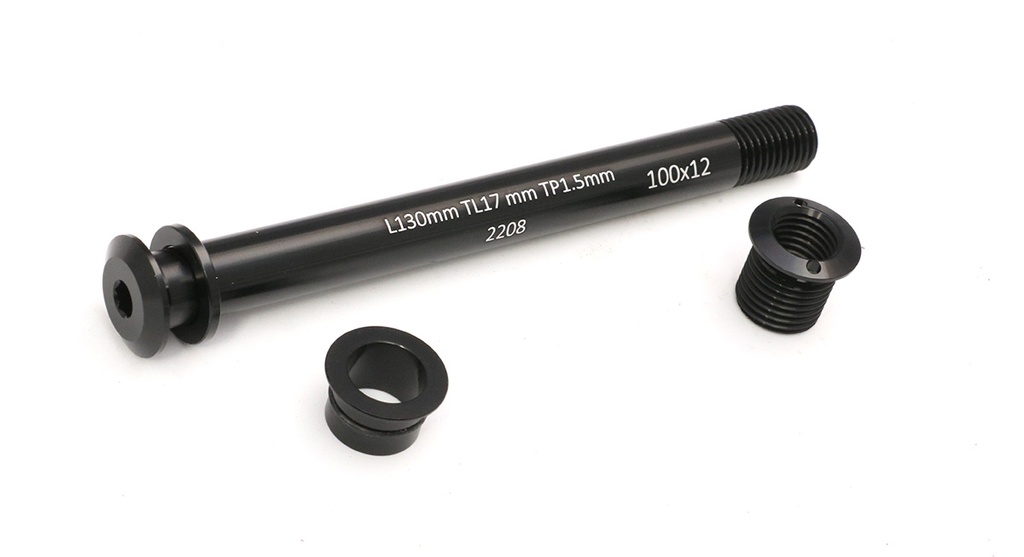 Suzue 15mm to 12mm Thru-Axle Converter, Length 130mm, Niner, Kona, Whisky #9
---
• SIGN IN to your Account to Place Order or View Wholesale Pricing
• Out-of-stock items cannot be Added to Cart
Call or e-mail regarding re-stocks
• View our Shipping Terms

Fork Thru Axle Conversion Kit for carbon forks on many bike models including:

Niner w/ 125mm axle (BSB, RLT, RDO)
GT Grade
Jamis (all)
Kona Roadhouse, Private Jake, and Jake the Snake
Norco Search and Threshold
Felt (all)
Raleigh Roker, Tamland, RXM, and RXC Pro
Otso Waheela (w/Lithic Hiili fork)

Whisky #9 fork
All City Cosmic Stallion (w/ Whisky #9 fork)
Foundry Overland (w/ Whisky #9 fork)

Lynskey PRO CX and PRO Road forks (not PRO GR)
Litespeed T5 Gravel

Advocate Lorax (w/ Otso Lithic Hiili fork)
Bombtrack Hook 3
Genesis Datum
Dolan DR1

Carbonda CFR505
Hoy Alto Irpavi
Rose Backroad and Xeon

Principia
Prologue
Rapide
Tomac Mesa Verde
Alan Super Gravel
Blue Norcross and ProSecco

PlanetX/On One Bish Bash Bosh
Saracen Avro
Viner Super Prestige
Bottecchia T2 Doppia Corsa
Kindhuman Kudu
Opus Allegro
Pride ROCX Tour LT.
Converts fork from 15mm to 12mm Thru Axle allowing use of a wide range of hubs and wheels previously incompatible. Kit includes one each:
M12x1.5mm threaded insert (replaces original)
10mm long thru hole insert
12mm x 130mm long thru axle, M12x1.5mm threads
Installation Notes:
1. Use either grease or low-strength threadlocker on thread adapter
2. Use Park Tool SPA-2 or equivalent 2.3mm pin spanner to tighten thread adapter into fork. Flange goes on the OUTSIDE (see third picture).
3. Use grease on o-ring of thru hole insert and install into fork from the outside with a combined pushing and twisting motion. Do NOT use thru axle to drive thru hole insert into the fork.
4. Use grease on threads of thru axle. Torque 9 - 13.5 N*m using 5mm hex key.