Busch + Muller Dyno Light Lumotec Luxos U,IQ2,70/90Lx,USB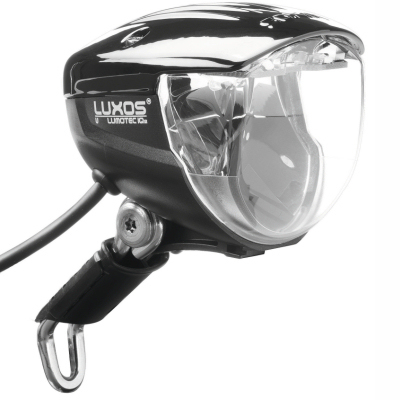 Busch + Muller Dyno Light Lumotec Luxos U,IQ2,70/90Lx,USB
---
• SIGN IN to your Account to Place Order or View Wholesale Pricing
• Out-of-stock items cannot be Added to Cart
Call or e-mail regarding re-stocks
• View our Shipping Terms

USB-equipped version of the Luxos dynamo headlight. Charges USB devices (mobile phone, GPS, MP3 player) with USB energy. An integrated lithium cache battery supplies constant voltage.
IQ2-Technology: 70 Lux
Panorama Close Range Light
Floodlight Beam boost: 90 Lux
USB output port for mobile devices, etc
Remote Switch to mount on bars
Lithium Cache Battery: This additional energy storage unit is used for peaks of demand as well as charging. Recharges continually when cycling.
LICHT24: Daytime running light
Stand light keeps light on when bike is temporarily stopped
Sensor checks if rear light is functioning or not