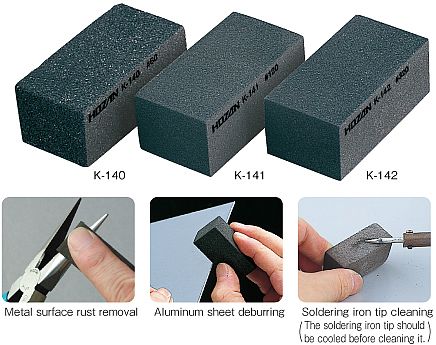 Hozan Polishing Pad
---
• SIGN IN to your Account to Place Order or View Wholesale Pricing
• Out-of-stock items cannot be Added to Cart
Call or e-mail regarding re-stocks
• View our Shipping Terms

Improve your brake performance with the K-141 rim polishing pad from Hozan. We all lube our chains regularly but what do we do to maintain our brakes?
This little block from Hozan will drastically improve your brake performance by polishing your rim surface.
Constructed with foamed NBR copolymer-rubber mixed with sintered aluminum dust to be gentle on your rims while refreshing your braking surface.
-K-141 has a 120 grit texture and is what you want for rims
– The K-140 has a 60 grit texture is better suited for removing rust from metal surfaces
– The K-142 has a #320 grit texture which is ideal for removing oxidation off soldering iron tips
– Made in Japan